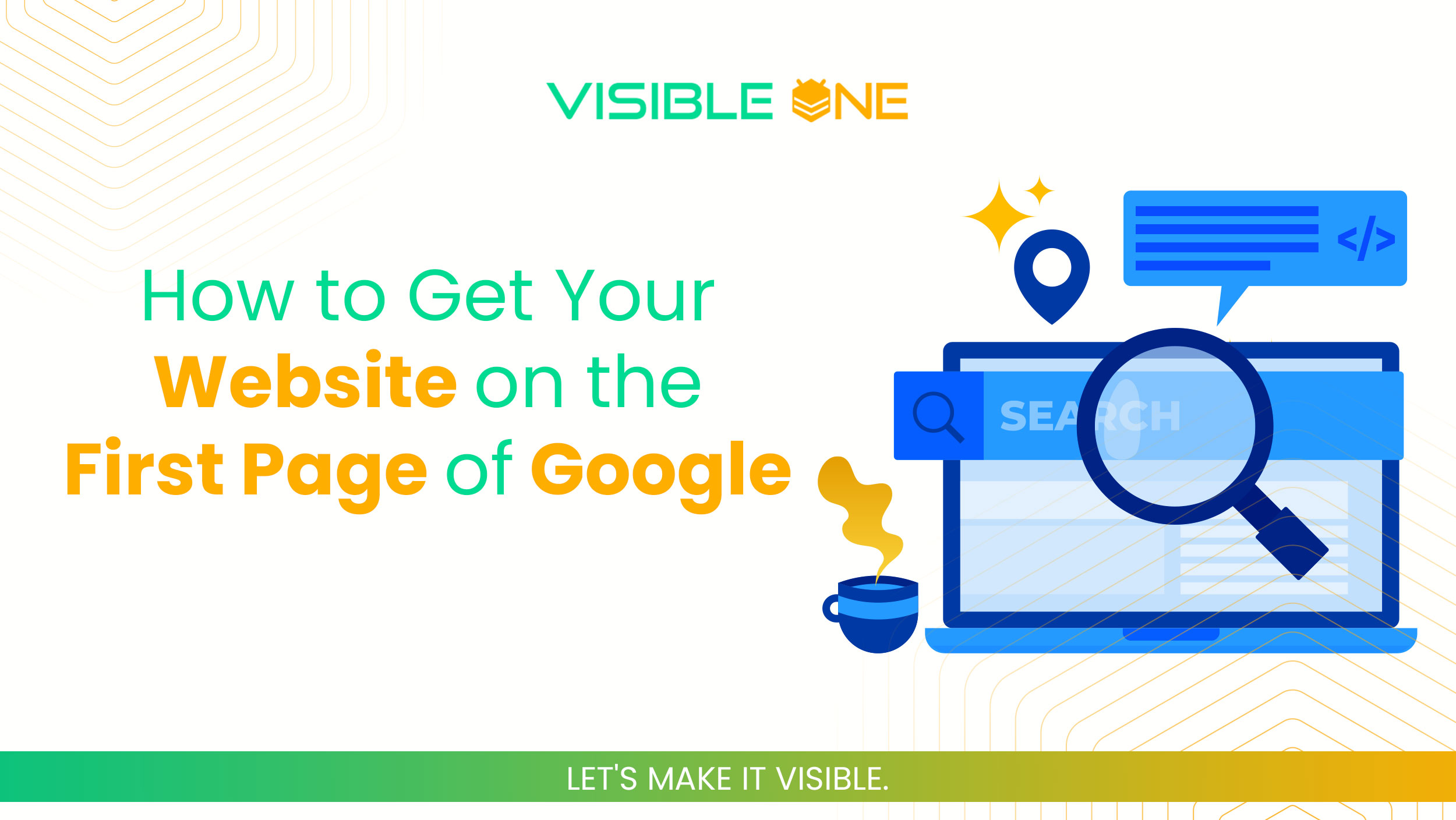 One of the most common questions that business people ask about their website is "Why is my website not showing up on the first page of Google?"
Undeniably, everybody desires to show up on the first page of Google, but the truth is, that everybody can't be first. Almost every business in the world has a website these days, and that means ranking on the first page of Google is not as easy as you think. Google updates its search algorithm regularly around 500–600 times to determine the order in which websites are displayed in search results. While most of these changes are minor, Google occasionally rolls out a "major" algorithmic update (such as Google Panda and Google Penguin) that affects search results in significant ways.
Having a website is not enough these days. If you desire to stand out and improve your rankings, there are a handful of fundamental practices that you must embrace and invest time and energy in.
What is SEO?
Search Engine Optimization also known as SEO is an effective method of ranking your website placement higher in search engines than the millions of other websites. This is done through various on-page and off-page tactics.
In today's competitive market, SEO is more important than ever. Search engines serve millions of users per day looking for answers to their questions or for solutions to their problems.
Remember that you are up against millions of other websites. Your website looks visually pleasant and appealing. Now what? Website design is not just about its appearance to achieve the first page of Google; search engine optimization must be treated as an extremely significant factor as well so as to rank your website as number one in search results! You are practically non-existent if you are not on top of SERPS (Search Engine Page Results).
The search engines act like virtual librarians, they file all your web pages, blog posts, images, and videos in a massive library in cyberspace. The name of the game today is earning Google's "trust". Proving yourself over time is the key. Optimizing your website is simply the process of telling the search engines where to file everything; so that when your prospective clients or customers are searching for what you have to offer they can find you easily.
So how will I show up on the first page of Google?
Choose the right keywords
Choosing the right keywords is very important. No one would argue that a fundamental component of SEO is keywords — researching them, utilizing them, and tracking your ranking of them in the SERPs. Note that the shorter the keyword/s, the harder it will be for you to rank it on SERPS. More so if your site is still new. It is advisable to target long-tail keywords as they are less competitive and far easier to rank.
Creating and optimizing your content
There is no such thing as SEO without content. However, you should remember that Google likes fresh content. As Google's calculations turn out to be more advanced and more adroit at comprehension and distinguishing top-notch content, advertisers need to see the light: great content is great SEO, and great SEO drives great content. Here are some specifications when creating content for your website:
Make sure you have one main keyword and one or two secondary keywords
Blog posts should contain 500 words and a 1000-word article is recommended for articles.
It must be fresh, unique, well-researched, and provide value to your readers.
Quality Link Building
Link building is one of the most important factors in Google's ranking algorithm. Link building is the process of acquiring hyperlinks from other websites to your own. A hyperlink (usually just called a link) is a way for users to navigate between pages on the internet. Search engines use links to crawl the web; they will crawl the links between the individual pages on your website, and they will crawl the links between entire websites. Getting your rankings up on search results requires quality links. Link building is important because it is a major factor in how Google ranks Web pages.
Google notes on their site that:
"In general, webmasters can improve the rank of their sites by increasing the number of high-quality sites that link to their pages."
Link Building Strategies
To get quality links for your site, you can follow some of the link-building strategies:
Guest Posting
It is recommended that guest posts should only be published on relevant websites. Try to focus on creating quality and compelling content that people will want to reference and link to, and tell other people about it. Having quality and compelling content increases your probability of getting into authoritative websites.
Broken Link Building
Broken link-building is a technique where you search niche-relevant websites for broken links, and suggest alternative URLs to link to (that lead to pages of your site). When you help others, then they're more likely to return the favor. That's basically the concept behind broken link building. Instead of straight-up begging for links, with Broken Link Building, you add value to someone's website. To a large extent, the success of broken link-building for ranking up on Google depends on the kind of content you are offering in return for the broken links. It should be relevant, and preferably an improvement above the original link in terms of quality.
Online Directories
One of the main things that can help your website rank on the first page of Google is to have a presence on different directory sites. This is an important link-building strategy. Creating a presence in online directories and on review sites indicates to Google that your business is well established. For consistency across the Web, be sure to list the same information in every directory such as business name, address, phone number (commonly referred to as NAP), hours, and to a lesser degree, business description.
Verify on Google Maps
Google Maps allows business to businesses to connect directly with their customers, whether they're looking on Search, Maps or Google+. It's important now and in the future to claim and much like the on-page Search Engine Optimization, Google My Business profile also needs to be optimized. For Google My Business rankings, consistency is important. It's really imperative that you retain all references of your business as consistently as possible. Precisely, your business name, business address, and business phone number. By keeping the information consistent, your site will be known as an even more trustworthy business, which will pay off in terms of search traffic and search engine rankings.
Gather reviews from real customers
The more reviews on your Google business page and the better the rating of those reviews, the higher you will get for overall rankings and visibility as well as for click-through from the search engine results page.
Optimize for Mobile
Don't ignore mobile. In fact, mobile just made Local SEO even more important. With mobile search becoming such a dramatic part of online search, it's absolutely crucial that you optimize your website so that it is seen by searchers and engines. There are a lot of factors to consider when going mobile, so be sure your marketing and development teams have a solid strategy in line with your company goals.