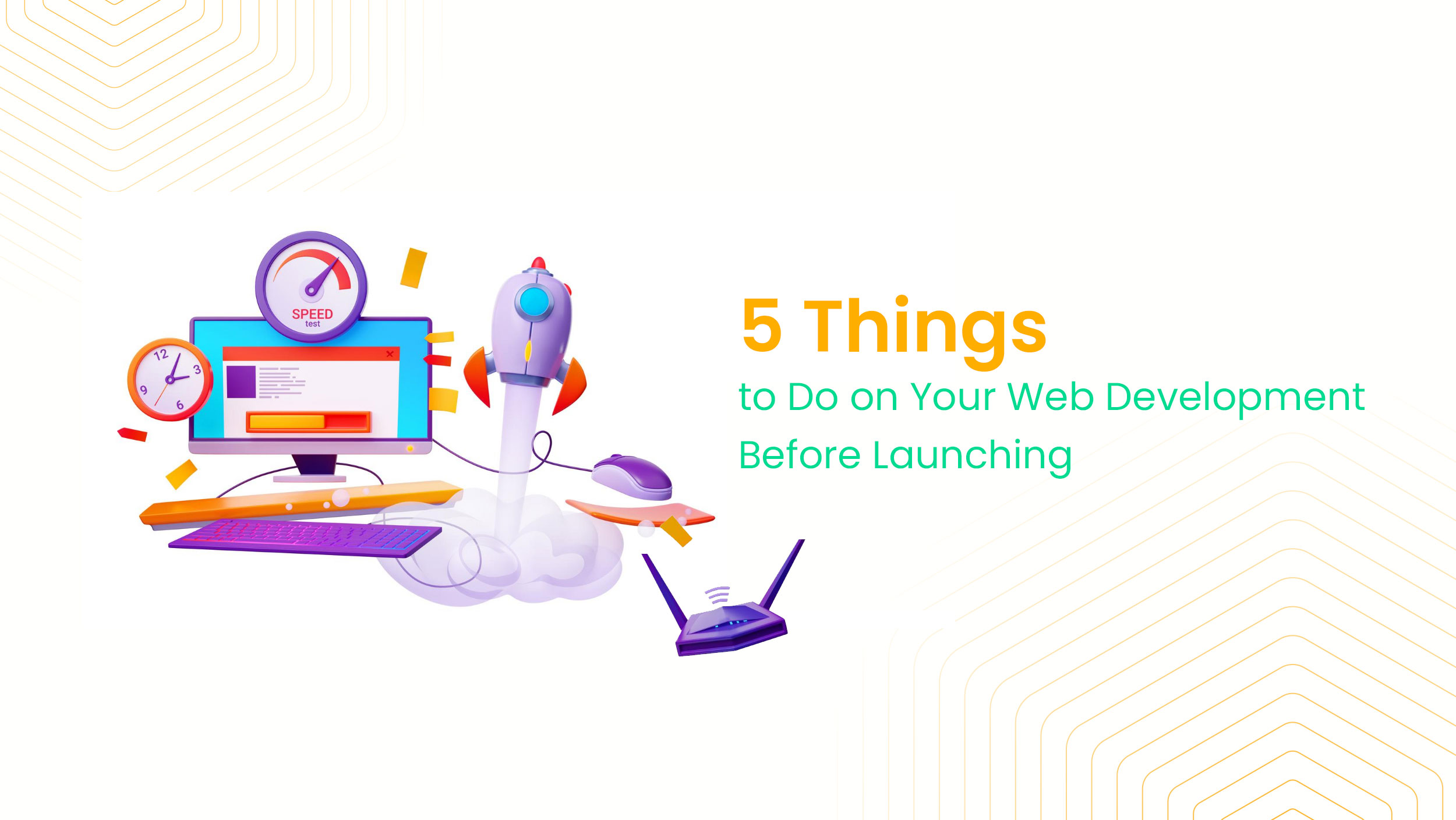 Launching a brand new website, redesigning, or moving a site onto a new content management system (CMS) can be extremely exciting time for a brand. After all the hard work, you're excited to unveil the finished product; however, before you pop the champagne you have to ensure that your site is error free and functional.
A quality website is all about the details. So, here are some web development tips and processes to ensure you've got everything prepared before the launch.
1. Have a checklist
Whether you are the designer, developer or content writer of this website, each of you have the role to check each every element of the site to avoid any glitches or errors. Launching a website can be exciting and at the same time a daunting task. So make sure you have a pre-launch checklist of the things to test thoroughly.
Here are the elements that needed to be included in the checklist:
1. For the content writer:
Spelling, grammar, punctuation
SEO
2. For the Web Designer:
Site speed
Mobile friendliness
Images
Color and Fonts
Navigation
3.For the Web Developer:
Cross Browser & Responsive Checks
Live URLs
Forms
404 Pages
Favicon
Security
2. Test everything
Once your website has been built, the absolute first thing you must do is to go through each features and verify that everything is working well with all the different browsers and devices. Think of any website you build as a demonstration to the quality of work and level of professionalism that others can expect of you. Can you imagine a website on live that is not yet ready, it could potentially affect the website's credibility and authority, and your reputation. Ensuring that your website has passed a complete test will help maintain and even enhance your reputation.
3. Get people to check it over.
Let your colleagues, client, your boss, or whoever the website owner and admin to look over the website and use it to test it for you before launch. Get their valued feedback to check for common bugs and take a look at things from a more examination of the website.
Every element of it will need to be checked for usability, visual appearance and readability. Get them to use the website and complete a few tasks that a user would come to your website to do such as:
Calls-to-action
Links
Forms
Maps
Contact info
Sidebars
Social media
Widgets
Logins/portals
Logo
Navigation bar
Images
Designs
Text
Header/footer strips
And more
This will not only help you to see any glitches but also to ensure that your design is easy to use. You don't want your user experience to be interrupted by broken links or forms that are not working if you can prevent it.
4. Review changes before the launch
After all the tests are done, review the changes and take a detailed look at your website before applying all the changes.
5. Back up your site
Before launching a site, backing up your site is an important step to prevent any loss of data or files. There are few things more painful than knowing that all of your precious files have been lost forever because they haven't gone through the backup process.
There are many things — both accidental and intentional — that can destroy all the hard work you've invested in your site.
If your website is already on live, there is always the chance that it may become compromised. Making sure your site is secure and backed up is the only real way to protect your site from any malware attempts against the site, ensuring that copies of the website are being created and stored regularly. You've worked hard on your website (and your brand) – so it's important to take the time to protect it!
6. Launch!
On the day of the website launch, even after following these steps, there will still be small things that could go wrong - that is a fact of life in the world of development - so be ready to fix them as quickly as possible. Then, announce your website to the world via email, social media and your blog. Remember to resubmit your XML sitemap to all major search engines once you're done, too — the website should continuously grow and evolve over time.
Creating a website is a major undertaking; so make yourself a to-do list and keep it handy to check over before making any website live. These are the best ways to make ensure that the launch of your or your client's site goes smoothly.
We hope this tips will help you on your website project. You can probably share this if you know someone working a website to save them some of that pain.