Grow Your Business With Email Marketing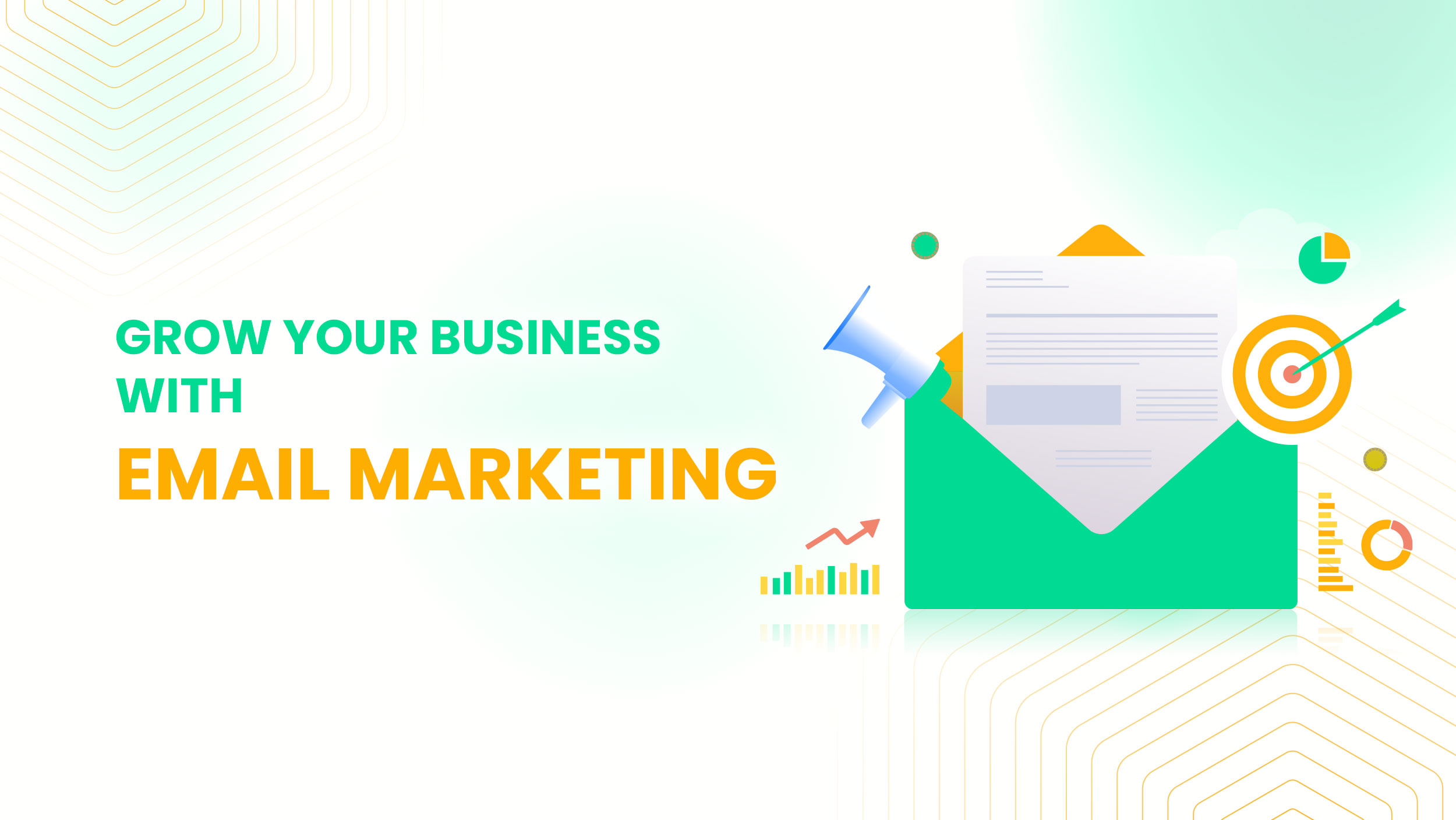 In the business world, in order to have a successful business you need to be able to connect and communicate effectively with your prospects in order to persuade them to purchase your product or service and not from your competitors. Email marketing can help you to achieve this.
Email marketing is not a new term to many small business owners. In fact, some of them have embraced email marketing to such an extent that it has become an important marketing strategy to grow their customer base by building up relationships, allowing them to stay in contact with the potential buyer and allowing them to come to their business as soon as they are ready to purchase a product.
Email isn't a new phenomenon. It has been around for a long time and continues to be a popular means of communication.
How Email Marketing started?
Back in 1971, the first electronic mail was sent from Ray Tomlinson to himself. He doesn't quite recall what the message he sent was but says it was likely "Test123" or "QWERTYUIOP." Whereas the first email marketing blast was sent in 1978 by Gary Thuerk who worked for Digital Equipment Corp. His email blast was sent to 400 recipients as a promotion for his company's computers, and it resulted in $13 million in sales.
Today, over 205 billion emails are sent and received every day according to technology research firm, Radicati. Email celebrates its 47th birthday this year, and what a journey it's been.
What is Email Marketing?
Email marketing is one segment of internet marketing use to promote products and/or services and develop relationships with potential customers and/or clients. It is essentially the same as direct mail except that instead of sending mail through the postal service, messages are sent electronically via email.
Let's face it. Email marketing is undoubtedly an effective marketing strategy, but this can be a very daunting task. Here are 5 email marketing software that can be a valuable marketing tool for companies and bloggers that help them manage their email lists and is designed for ease of use and convenience.
1. Mailchimp
Mailchimp is an always-on marketing platform for small businesses. Mailchimp make innovative, beautiful products that empower you to grow the way you want to. Create unique campaigns, automate your busy work, get smarter as you go.
2. Zoho Campaigns
Zoho Campaigns is an email marketing software for small to midsized business to automate entire marketing process - from managing your email campaigns to maintaining your mailing lists. Thanks to the integration with Zoho CRM you will have the right info when you need it. Engage with your customers anywhere with social campaigns on Facebook, Twitter and LinkedIn.
3. Campaign Monitor
Campaign Monitor is an easy-to-use email marketing tool that allows entrepreneurs at growing businesses to send beautiful, relevant newsletters, creating a reliable channel to grow engagement with their subscribers and promote loyal readership.
4. Agile CRM
Agile CRM's Email Marketing helps create and send professional emails and newsletters, personalize them, then track and analyze your results. With features like e-mail A/B Testing, Drag-and-Drop Email Builder, Include social share buttons in your email templates, Create and store automatic response emails and Real-time notifications.
5. Constant Contact
Hundreds of thousands of customers like you trust Constant Contacts effective, easy-to-use email marketing tools and more to help increase sales, engage loyal customers, get new customers, and generate positive word-of-mouth.
Benefits of Email Marketing
1. Increase traffic and sales
With the potential to communicate your messages to specific segments on your email list, you can use your email list to reach and engage with your customers and use it to drive traffic to your website.
Depending on the email marketing software you use, mail offers more reporting and analytics capability, such as click-through rates, open rates, bounce rates, and conversions. With these, you can see what needs to improve on your strategy that can eventually increase the effectiveness of your email marketing. If done correctly, email marketing strategy can persuade your potential customers to click and visit or revisit your website or blog, and more traffic usually equates to more sales.
2. Builds a strong relationship
The #1 reason why you should focus on email marketing is it allows you to reach out and connect to your potential customers like no other method. While it is true that social media sites like Facebook and search are great ways to get discovered by future customers, you still need email to truly reach out to them and grab their attention.
It is also an effective way to keep your customers informed about new sales or promotions you are running. In fact, 72% of people would rather receive promotional material via email than social media. People want to stay informed about your brand and when they are informed, you are able to build trust with customers over time to turn them into repeat customers.
3. Easy-to-use and low-cost
Email marketing is an inexpensive way to advertise your company and its products and/or services compared to many other types of marketing. With email method, you don't need a ton of employees, designers, or marketing analysts. You don't need to pay for printing, postal mailing costs, phone lines, or advertising rates which reduces overhead cost.
It's also extremely easy to set up and track an email marketing campaign, making it a very accessible type of marketing for small businesses. An effective email marketing strategy only needs a great email marketing software or a good marketer who knows how to mix the right offers, the right copy and graphics in front of the right portion of your email list.
Bottom line
It is no brainer that email marketing be an important part of your marketing mix. This powerful digital marketing strategy allows businesses of all sizes to reach, connect and engage their audience effectively with great results.