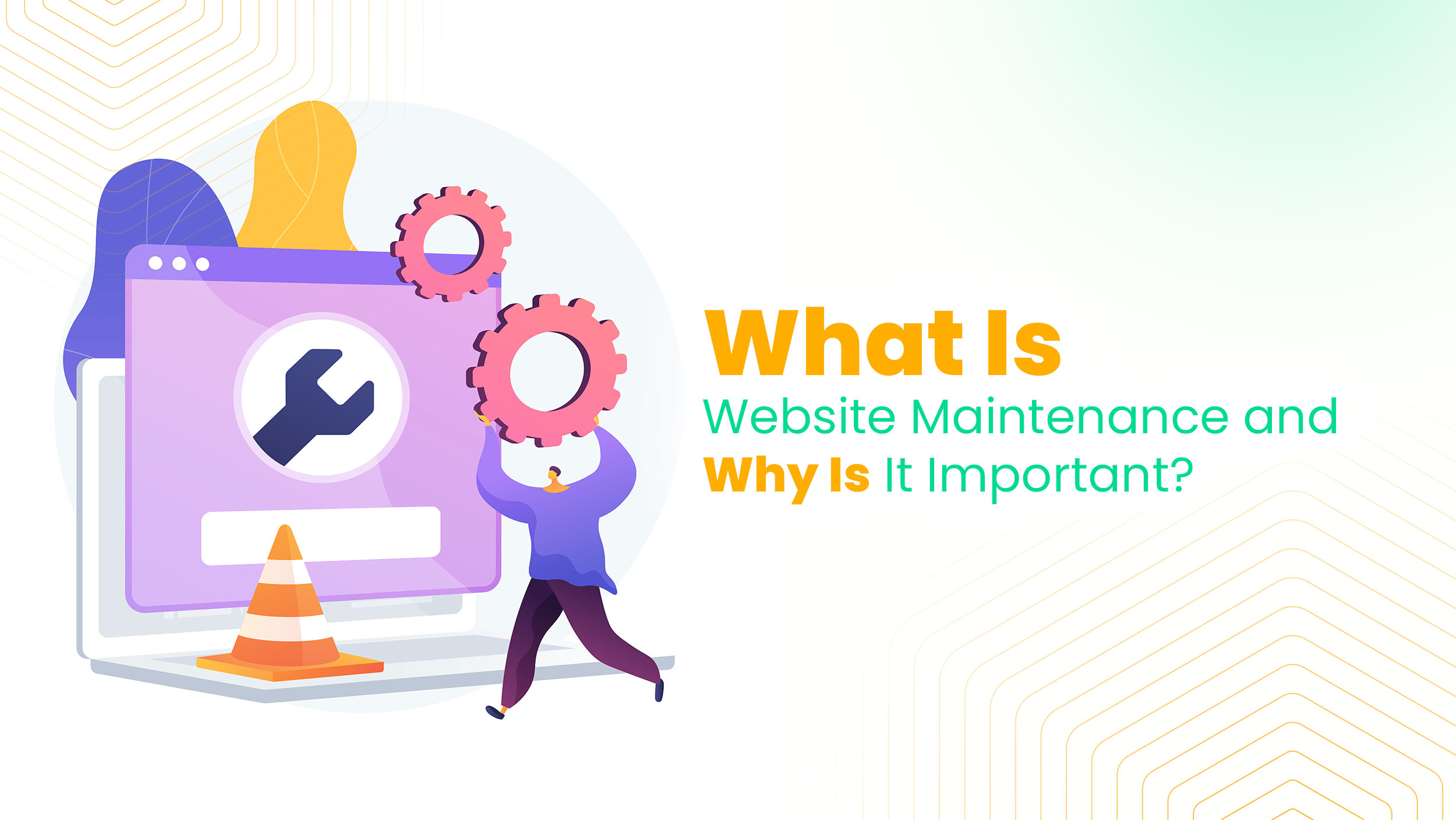 In today's digital world, website maintenance is an integral part of keeping your site working properly. Websites are like any machine that needs proper maintenance for issues and mistakes, or it will run down. With proper website maintenance, your website will be healthy while providing continued traffic growth, improved SEO, Google rankings and more.
Website maintenance is important to any business, big or small, in order to make a perfect first impression, engage and retain customers.
Many companies create beautiful websites to attract their target audience but then fail to monitor and update them regularly which make the site outdated and unresponsive. They fail to realize that there's a lot of updates on the search engines and on the user behavior which they need to be kept abreast, or they will lose credibility and sales.
Therefore, regular checking of your website is something that should not be overlooked for keeping your business running efficiently.
What Are the Steps in Website Maintenance? A Quick Checklist
Weekly Tasks
Check all pages on the website are loading without errors.
Make sure backups are performed regularly and stored off site.
Update core website software and plugins.
Test functionality of all forms.
Remove spam comments.
Check for any broken links.
Check for 404 errors and resolve these by fixing links or redirecting.
Monthly Tasks
Review analytics and take action when needed.
Check website loading speed.
Check website on multiple devices.
Review security scans and resolve any issues.
Quarterly Tasks
Review local search visibility with Google & Bing.
Review and tweak title tags and meta description tags.
Update web graphic designs and photos.
Check website content.
Test website on new web browsers and devices.
6. Test and tweak popups, forms, and calls to action.
7. Review and amend website advertising campaigns.
Yearly Tasks
Review website domain names and expiration.
Review each web page and remove outdated content.
Consider updating the website design.
Review top performing blog posts and check if the content can be updated.
Schedule an annual team meeting to review your overall web strategy.
Why Is It Important to Do Website Maintenance?
Enforcing regular and long-term web maintenance plan is a must for any business size. Here are some of the important reasons to practice a regular website maintenance:
1. Improves Security
Security is the number one reason why website maintenance is important. No matter what content management system (CMS) you are using, ensuring that you are always running the most up-to-date version is essential to guarantee that your site is safe from malware and hackers.
Some hackers want to steal credit card numbers or passwords and some just upload malware or a Trojan Horse to your website that causes problems not just for you, but potentially for every person who visits your, too. These hackers actively seek out old and outdated websites because they are easier targets.
Therefore, keeping your website updated with the latest bug fixes and security patches is a must and using SSL certificates is the best way to ensure all the data – passwords, credit card information, and other personal data – stays private and ensures protection against hackers. If visitors know that your site is safe, they are more likely to browse your site and will feel better about browsing and entering sensitive information into your website that eventually increases traffic and conversion.
2. Boost SEO
Search engine algorithms like Google likes new, fresh and relevant content on well-maintained websites – so do customers. Google's priority is to provide users useful and relevant results in a fraction of a second. Thus, updating your web pages content and keywords will drive traffic to your website and improve your rank on the SERPs. The more you update your website, the more search engines to favorably raise your rank and keep your customers coming back.
On the contrary, search engines will rank your website down on the search results if your site is outdated. So, it makes sense to make a part of your marketing strategy is to have ways to keep your content fresh and updated in order to build long-term relationship with your customers.
Regular blog posting is also an effective way to provide a major SEO benefit in the form of an increase in website authority by offering new content on a regular basis and a higher number of pages to leverage with internal links.
3. Improve Customer Experience
Responsive, faster websites, user-friendly web navigation and customized content are essential for enhanced customer experience.
When customers had a negative experience with your website because they encounter outdated information, links or contact form, your company will lose its credibility and will eventually lose sales. Therefore, performing a regular updating of your website's theme, template files and all its features is essential to make sure your site displays properly on new versions of web browsers and mobile devices.
It is also critical to make your website responsive in order to improve the way it looks on all devices with both large and small screens. That will increase site usability and make it longer for visitors to spend time your site which help you improve your rankings in search engines.
4. Increase Customer Engagement
Updating your website gives your website a facelift. But, the most effective goal could be to boost your customer engagement and use your website to further increase the interaction with your visitors.
A well-maintained website with actionable items makes your current customers happy and excited about your products and services. If you ensure that new content and seamless browsing experience continues on your website, you give customers a good reason to take an action.
After all, if customers don't find your website as valuable source of information or find it difficult to access it, you will likely to lose sales and the whole purpose of your website becomes worthless.
5. Attract New Visitors
As mentioned above, keeping your site maintained and updated will make it easier for you to rank high on the search results which will make customers find you easily. With billions of users search for information, products and services online, 75% of the users never scroll past the first page on a Google search. That means you can't afford to be ranking on the second, third, or fourth page of the SERPS (Search Engine Page Results).
Website maintenance then can give your business online visibility that will reach new website visitors.
Bottom line
Website maintenance is the groundwork for online success of a business that supplements your goals and objectives, justifying a positive ROI. We live in a digital world where websites become the "face" of your brand. This is enough to support the idea that web maintenance ensures the website's performance is at peak.
When was the last time you did a website maintenance? What other tasks would you add to the website health checklist?